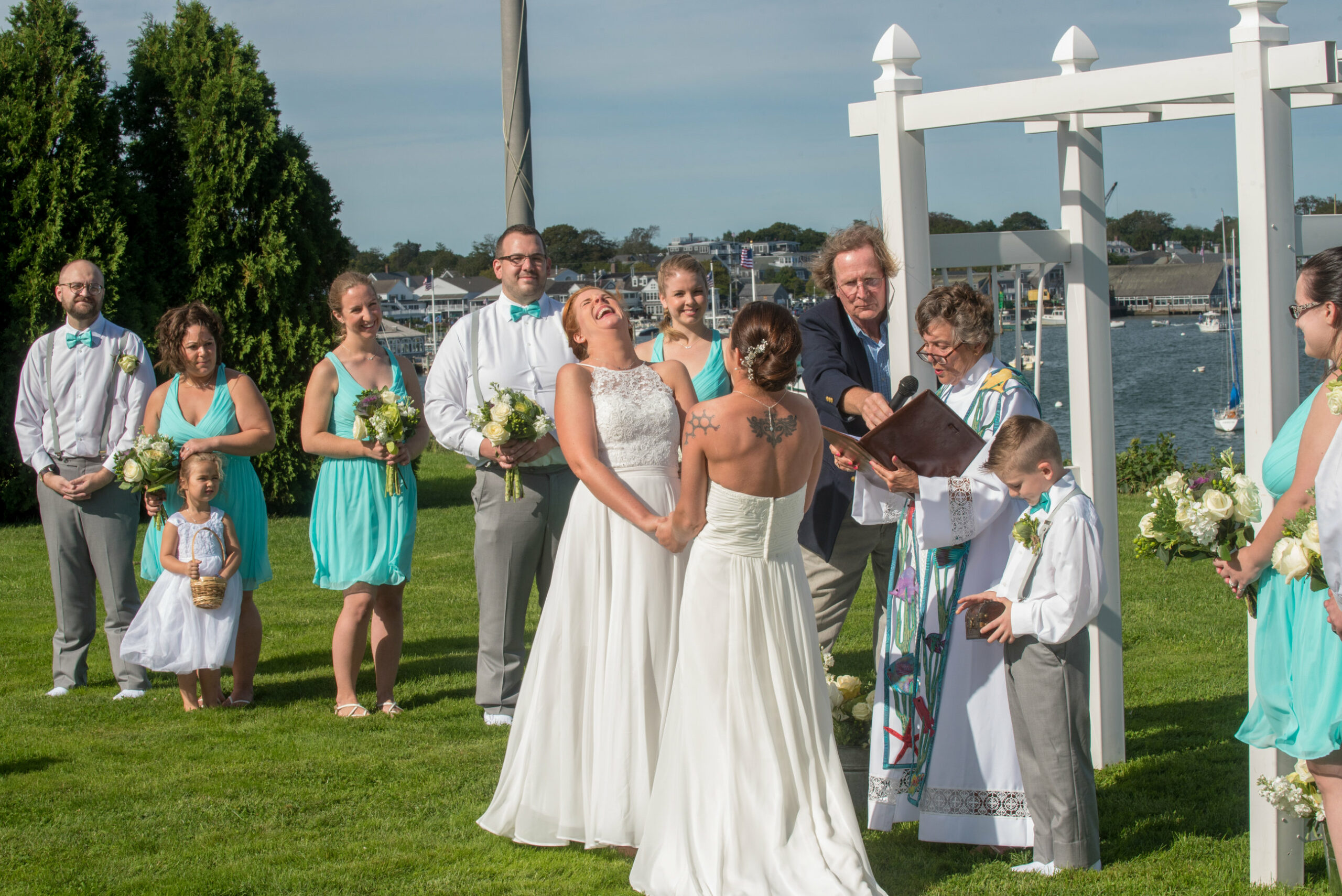 Micro weddings, Tiny Weddings, Pop-Up Weddings, Minimonies, Sequel Weddings, and Elopements in New Hampshire and Beyond
When you think of a traditional wedding, you probably imagine getting ready with your best friends, perhaps followed by a first look before saying "I do" in front of 100+ of your family and friends. Afterward, you might spend an hour or so capturing portraits with your wedding photographer (while your guests are enjoying cocktail hour), then dance late into the night during a lively reception.
However, the format of marriages is starting to evolve, in part due to the restrictions brought about in the Covid-era. But even before the pandemic, many brides and grooms were opting to ditch convention and take a more intimate route to escape the stress of large-scale weddings.
As it turns out, big is not always better and doesn't always meet the dreams and visions of couples. A smaller wedding might allow you to be more creative with your wedding rituals or splurge at a venue you couldn't afford with hundreds of guests in tow. Alternatively, it may mean extending your wedding day into a long weekend with your loved ones. It's an opportunity to share time with people who matter the most, rather than feeling pressured to "work the room" on a day that whizzes by in the blink of an eye.
Perhaps you've heard terms like "micro weddings" and "minimonies" thrown around but aren't exactly sure what they mean. In this article, we'll explain what separates your "elopements" from your "sequel weddings" and "pop up weddings" so you can figure out which one is right for you.
There are so many beautiful venues and locations to have your NH micro wedding or your small wedding or intimate wedding — perhaps on a beach on the seacoast of New Hampshire or on a mountain top minimony in the White Mountain National Forest.
Micro weddings
As its name suggests, a micro wedding is like a traditional wedding but with a guest list of up to around 50. Also referred to as an intimate wedding, it usually includes your immediate family and closest friends while still incorporating all of the rituals we've come to associate with Western weddings.
For some couples, it's a compromise between a big celebration and an elopement, allowing you to share the moment with those closest to you but without the blow-out budget of a larger wedding. In many cases, couples will use their budget to create a more luxe experience than they could afford with 200 or so guests. Perhaps you'll splurge on a top-shelf bar at the reception or cover the costs of hotel rooms for your guests – a micro-wedding allows you to spend money on the details…and on your guest experience.
If you'd like to see a gallery of a beautiful 2-day micro wedding from the summer of 2020, click here: Nicole and Patrick's Micro-Wedding
The

Minimony

A minimony is a ceremony that may include your loved ones or may be a moment of commitment solely with your significant other. Generally speaking, a minimony would be no more than 10 people, including an officiant who may appear either in-person or virtually and a photographer to document the occasion.

Perhaps it's a tiny backyard wedding at your parents' house or a beach wedding with your best friends standing by your side. A minimony can still include all of your preferred rituals, including the reading of vows, a first dance, and a champagne toast or it can be a simple, ceremony-only wedding.

Minimonies have flourished in recent months as couples opted to go ahead with their weddings amidst the pandemic while still adhering to social distancing requirements. Many couples who were forced to postpone their weddings decided to hold a minimony on their original wedding date and still go ahed with a big celebration (a "sequel wedding") at a later date.
Sequel weddings
Sequel weddings are what takes place after your minimony and are basically the original wedding you had been planning before the pandemic hit. Interestingly, however, the term originates from 2019 (pre-Covid) when couples were deciding to have two distinct weddings for cultural, religious, or personal reasons.
But in the age of Covid, the sequel wedding has taken off, meaning couples don't have to forego their dream wedding but can still be legally married when they had intended. It's an opportunity to do things both ways – an intimate celebration with those closest to you and a big party with all of the bells and whistles!
Pop-Up Weddings
This is a shared wedding day experience that is usually at a venue where you have an officiant, a photographer and wedding decor and then later that day another couple comes in to use the same setting. It is definitely a good option for cost cutting.
Elopements
Traditionally speaking, an elopement is just you and your spouse, an officiant or a witness watching on and a photographer. They were once synonymous with couples who wanted to spontaneously run away together and get hitched, sometimes to escape disapproving family members or social expectations.
But today, eloping has become increasingly popular with couples who not only love the romance of the idea but the simplicity of it. An elopement is a non-traditional wedding format. It is typically 30 guests or under and encompasses everything from a couple going to a mountain top with their photographer and officiant to be married and then on to having a beautiful dinner with 25 of your closest friends, where the focus is on great food, wine and conversation instead of running through the whole reception program.
If you want to take it one step further, you can opt for an "adventure elopement", which is all about finding somewhere with incredible views as the backdrop as you say "I do". Maybe it means standing at the top of the mountain or exchanging vows on a boat at sunset – there are plenty of inspiring ways you can create a memorable experience with just the two of you.
So if a large-scale, traditional wedding isn't your thing, there's no need to despair. The wedding industry is well and truly embracing a more intimate style of nuptials, no matter how many people you plan on inviting. From tiny cake makers to photographers specializing in intimate weddings, you'll still be able to find your dream vendors who truly understand that you've chosen an experience that fits your ideal wedding vision and they will help you create an event you'll remember forever.
Planning a small wedding in New Hampshire or eloping somewhere magical in New England?
Check out some of our favorite venues for intimate weddings here.