While there's a lot of expectation around what the bride is going to wear on her wedding day, the groom's attire deserves equal attention. Finding the ideal suit and accessories requires careful planning to ensure you're looking and feeling your absolute best on your special day.
When it comes to wedding suits, wool is definitely the most common fabric. While you might think of it as being a heavy fabric used for keeping you warm against the winter chill, you can also find lightweight wools that are perfect for weddings in warm or tropical climates.
Not only does wool breathe easily but it's durable and naturally water resistant. Wool is also hydrophilic and can absorb up to 30% of its weight in moisture, without you ever realizing it! This makes it perfect for weddings during rain-prone seasons, as well as in warm and tropical climates. Added benefits of wool is that it doesn't wrinkle easily and is flame resistant, as well as dying easily so you can create suits in almost any color.
In this guide, we'll talk you through all things wool suit related to help you find the ideal one for you.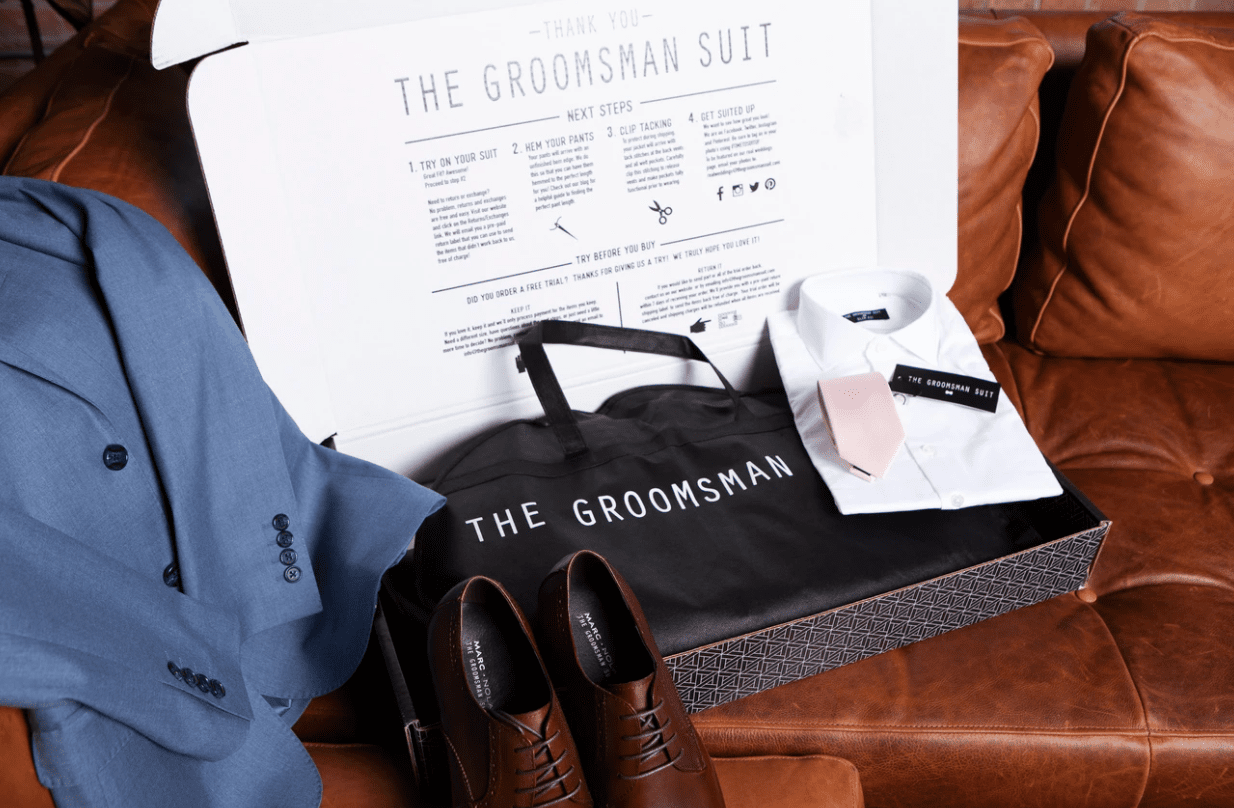 The Groomsman Suit
Photo copyright https://www.thegroomsmansuit.com/
Where does wool come from?
Most people will know that wool comes from sheep but the actual process of how it's sourced isn't such common knowledge. After the fleece is shorn from a sheep, it is washed in a process that reduces its weight by roughly half. The fibers are then blended and combed, with the shorter ones separated from the longer ones. These fibers are then dyed and spun, transforming them into what's known as "yarn". The yarn is then either twisted or folded to create two-ply yarn before being woven into cloth. Depending on the desired finished product, this cloth is then washed, flattened, shrunk and mended.
Woolens vs worsteds – what's the difference?
When you think of a typical woolen jumper, you might think of it as being slightly hairy and even scratchy. This results from the individual fibers overlapping one another in various directions. Worsteds, on the other hand, are soft and smooth as the individual fibers are roughly the same length and run parallel to one another. Unlike woolens that have air pockets between the individual fibers, worsteds have little space in between, which creates a more lustrous finish.
Most suits are made from worsted wool that's been either combed or carded. Combed worsted suits appear smoother as the long wool fibers run parallel and are separated from the short staple fibers. With carded wool suits, all of the fibers are retained (regardless of their length), creating a fuzzier, matte finish.
Wool "Super" numbers
Super numbers are used to indicate the level of fineness, with the higher number reflecting a finer wool. In reality, the Super number reflects the number of hanks that can be spun from a pound of raw wool. For example, "Super 120's wool" means that 120 hanks can be spun from a pound of raw product. Basically, a finer fiber means that more hanks can be spun.
That being said, there's no international standardization and one company's Super measure can be different from another. It also doesn't take into consideration the weight of the wool or the length and strength of the fibers, which are also important in determining the quality of the product. We'd recommend looking for Super 120's to 140's, which feel amazing to the touch while still being durable. It's not really worth buying any wool suit that's finer than Super 180's as they start becoming difficult to tailor and aren't the most durable.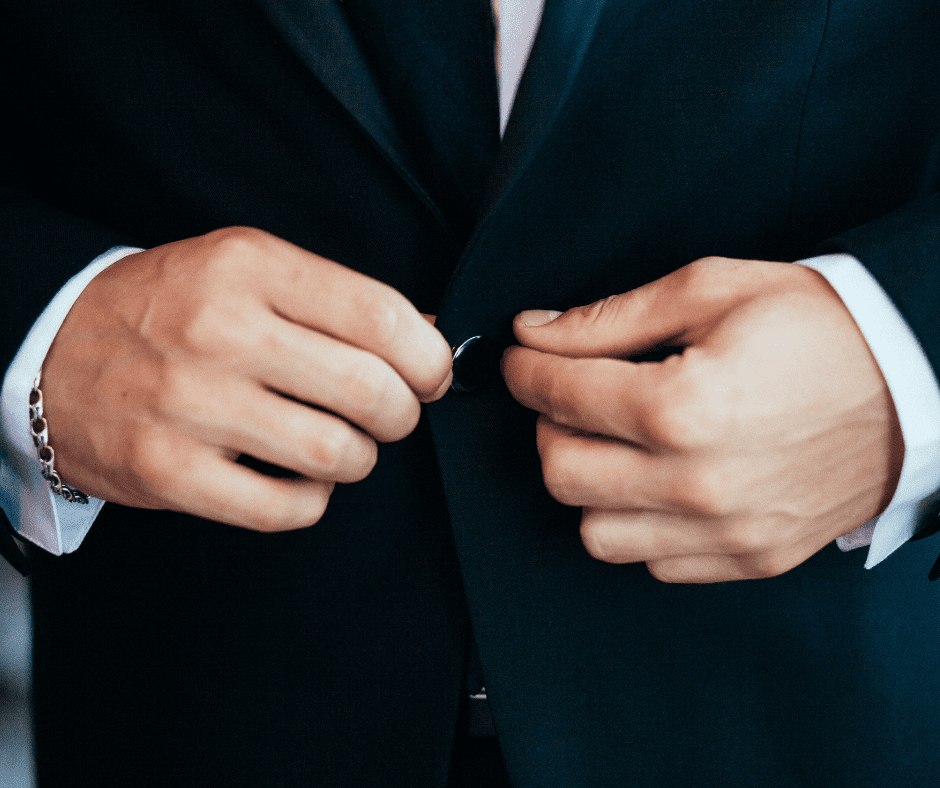 Other wool quality indicators
Length, strength, color and crimp are other factors used to determine the quality of a wool suit. Longer fibers are harder to break down and are used for high-end suits while stronger fibers will extend the life of the product. Crimp refers to the amount of bends in the individual fibers, with higher crimps spinning into finer yarns (and resulting in more expensive suits). The color of the wool isn't about it being dyed but rather the stains or impurities that are present after the fabric is washed. The "cleaner" the wool is, the more expensive it will be. Cloth weight
Popular belief is that lighter, finer cloths are better quality but this is not necessarily the case. In fact, super fine wool cloths will usually wrinkle more easily and aren't the easiest to tailor. Wool suit cloth weight is measured in terms of t ounces or grams per running yard, with the term "running" meaning the width between the woven edges on a bolt of cloth before it's cut.
Here's a rough guide to help you determine the right cloth weight for your woolen suit:
6.5-8.5 oz (210-265 grams): Lightweight wool cloths that are ideal if you're in a tropical or warm climate such as California or Florida.
9-12 oz (280-360 grams): A mid-weight option that's considered "all season", with the ideal weight depending on your own body and geographical region.
12.5-14 oz (360-420 grams): Upper-mid to low-heavyweight cloths that are perfect if you're getting married in the autumn or winter. They'll keep you warm outside without the need for an overcoat.
14-19 oz (420-570 grams): Heavyweight wool cloth that's usually used to make overcoats and heavy tweed jackets.
Your content goes here. Edit or remove this text inline or in the module Content settings. You can also style every aspect of this content in the module Design settings and even apply custom CSS to this text in the module Advanced settings.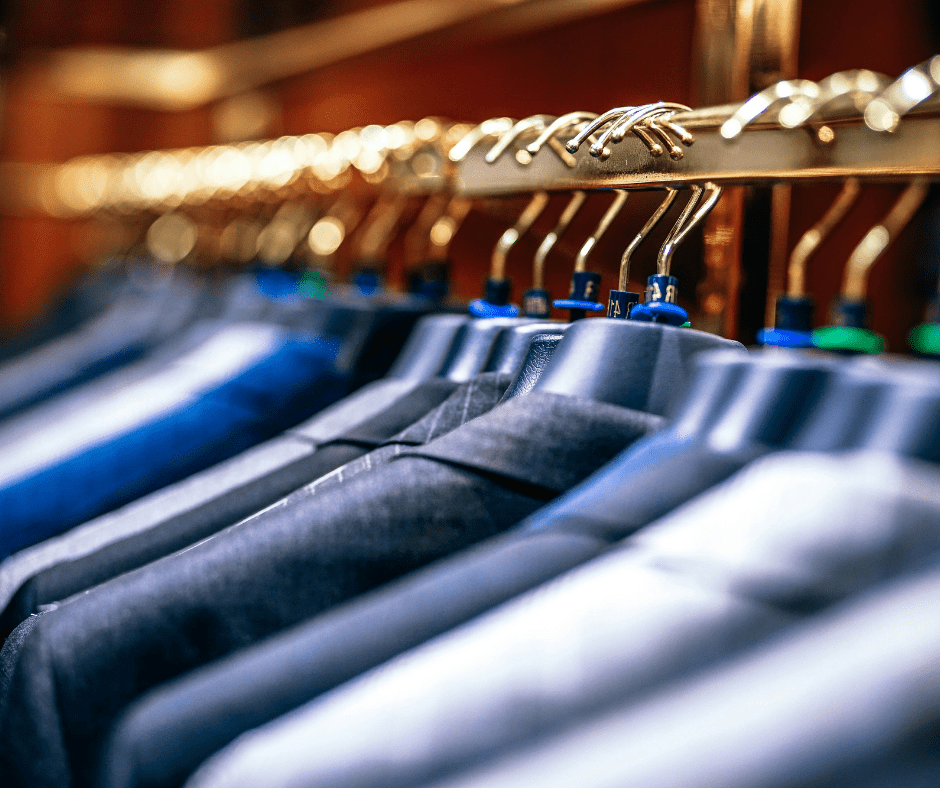 Where to buy wool suits
You can find wool suits at most high-end men's clothing stores and online, with prices ranging from affordable to eye-wateringly expensive. The one that's right for you will depend on the style you're after, the budget you have available and your individual brand preferences.
Brooks Brothers is one of the oldest clothing manufacturers in the United States and makes high-quality suits with a traditional touch. Indochino is a Vancouver-based company that's known for its affordable yet high-quality made-to-measure suits, as is Black Lapel, a high-end suiting brand that's headquartered in New York City.
There are several outstanding British suit brands to keep an eye out for, including Charles Tyrwhitt, Hawes & Curtis and Turnbull & Asser (the latter two of which are based out of London's prestigious Jermyn Street). More contemporary suit brands to consider include the luxury British clothing retailer Ted Baker and the Amsterdam-based Suitsupply.
And for our Grooms-maids and our LGBTQ marryers, here are some wonderful resources for inclusive fit and sizing for all. https://www.thegroomsmansuit.com/ and https://www.cuttingroombespoke.com/lgbtq-wedding-suits-and-tuxedos.
Once you've got your wedding suit sorted, it's time to start thinking about accessories. Our No-Stress Guide to Wedding Attire for Nearly-weds has you covered.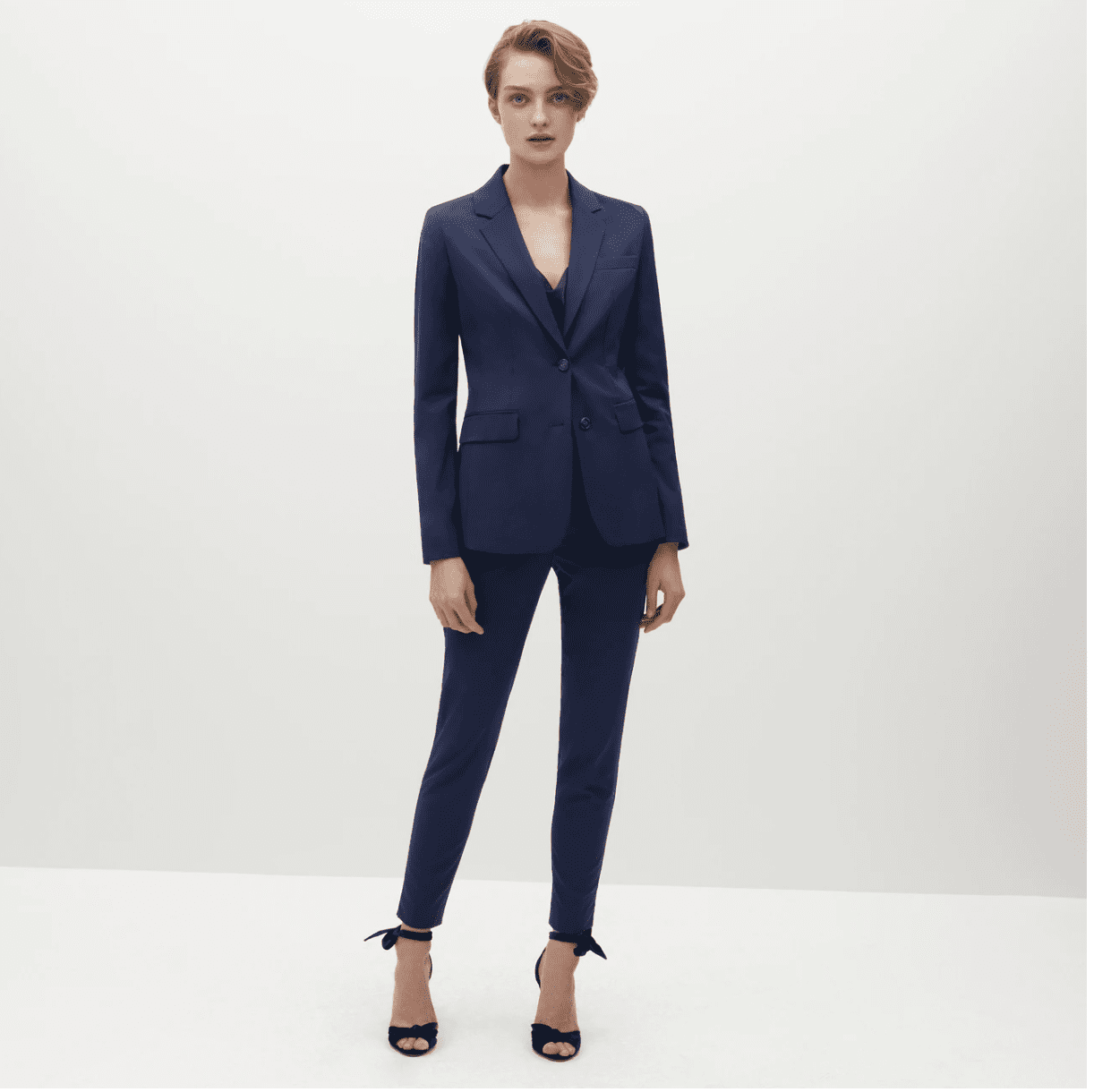 Suits for Groom's-maids and LGBTQ+ Weddings
Photo copyright https://www.thegroomsmansuit.com/collections/women