Each year, wedding trends change, with some enduring longer than others and many reappearing again in the future. But with the global pandemic shaking up all aspects of our lives, the changes expected in the 2021/2022 wedding season are more dramatic than most. In this article, we'll guide you through some of the most popular trends for weddings that are taking place in the coming months, from planning processes to bridal attire and wedding blooms. New Hampshire has not been hit as hard with state restrictions. Many of my couples had small weddings, micro weddings, outdoor weddings and backyard weddings throughout 2020 and will continue in this direction through most of 2021.
Micro-weddings and elopements
Covid has thrown a spanner in the works for many couples planning their special day, with some postponing their wedding multiple times. As a result, there's predicted to be a rise in micro-weddings featuring 35 or less guests, as well as elopements to destinations that are within travel restrictions. The New England seacoast has so many options for these small weddings and elopements.
Rather than being stressed out about pulling off a big party, a micro-wedding is an opportunity to really focus on your love story while being surrounded by those who are closest to you. A bonus – your wedding costs can shrink with a micro-wedding – mainly your food cost per guest. You will still need flowers, a photographer and videographer, transportation, invitations, and entertainment, attire and a honeymoon. Alternatively, you can use the extra cash to splash out on some luxury indulgences, for your guest list of 35 or less, that you might not otherwise have been able to afford with 50-150 on your guest list.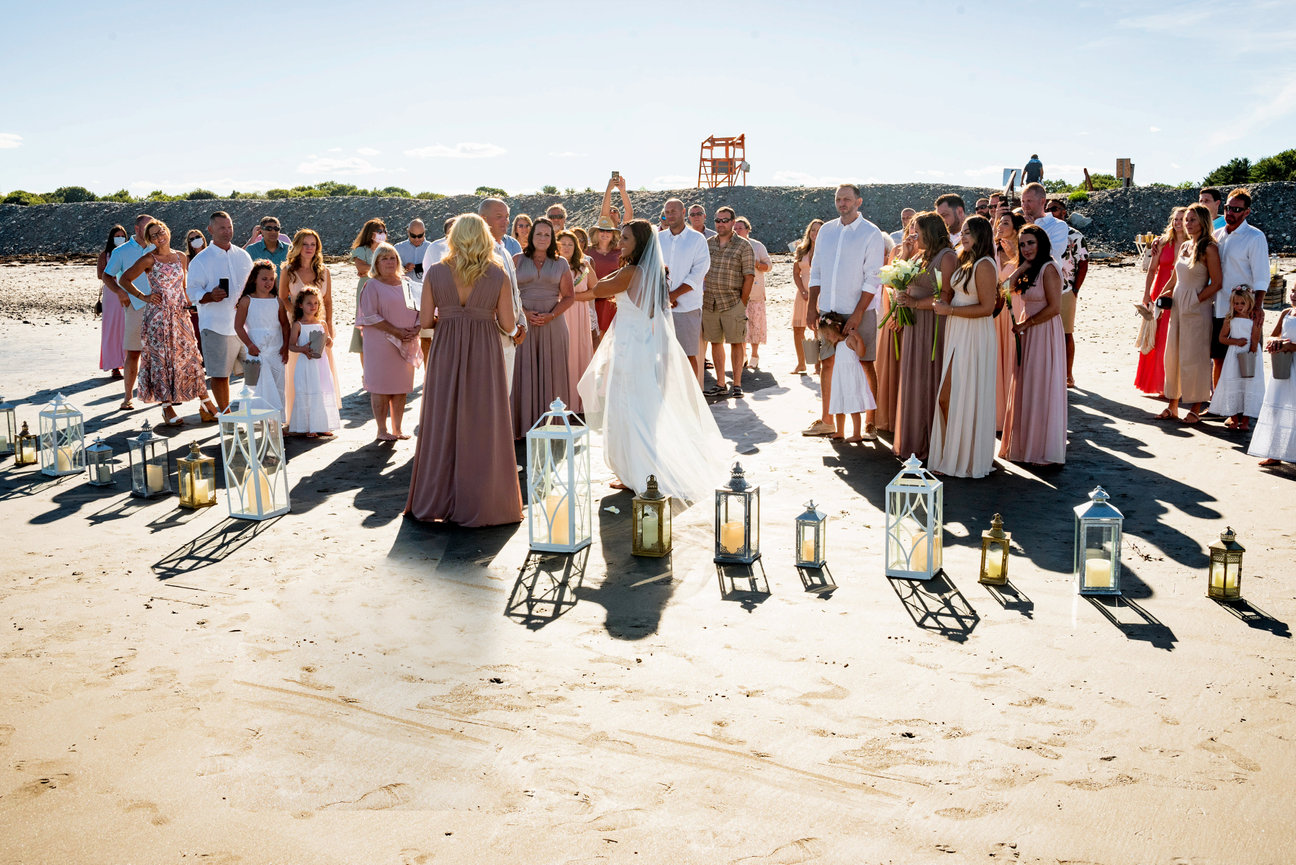 More sustainable practices
In 2021, there's really no reason why your wedding can't be a sustainable one, with the rise in the use of biodegradable packaging making it easier than ever. But this can also extend to your choice of food (local and seasonal in favor of imported), as well as eco-conscious hair and makeup products that aren't filled with nasty chemicals.
If sustainability is important to you, chat with your venue and/or wedding coordinator about putting in place systems to ensure that as must waste is recycled as possible. Alternatively, choose a venue that's already committed to reducing their environmental footprint and operates according to sustainable practices.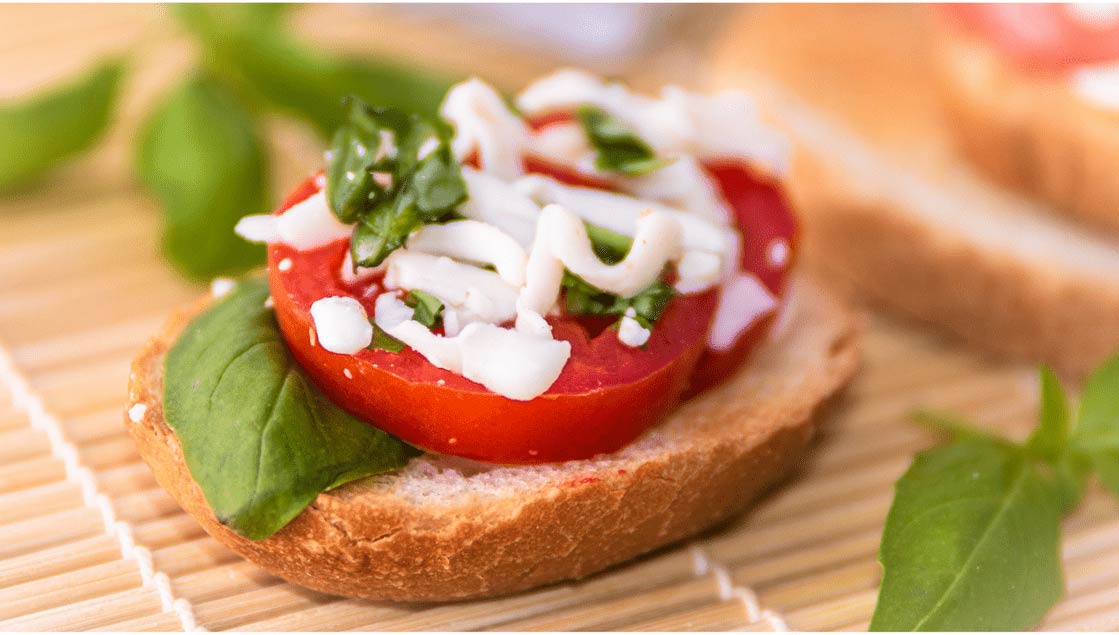 Wildflower bouquets
There's nothing wrong with a carefully manicured, classic bouquet. But there's something about artfully-designed wildflower arrangements that have an edge this season. Seeming as though they've been freshly picked from a nearby field, they're undeniably whimsical and ideal for boho-style weddings. Think bright oranges and pinks nestled amidst plenty of foliage and you get the vibe.
Naked wedding cakes
While the name sounds slightly racy, naked or bare wedding cakes take their name from the fact that they have little-to-no frosting on the outside. Instead, this decadent sweetness is hidden between the layers as an added surprise. They've been a popular choice at boho-themed weddings for a few years now but are slowly trickling into the mainstream. They also photograph beautifully, particularly when decorated with fresh flowers!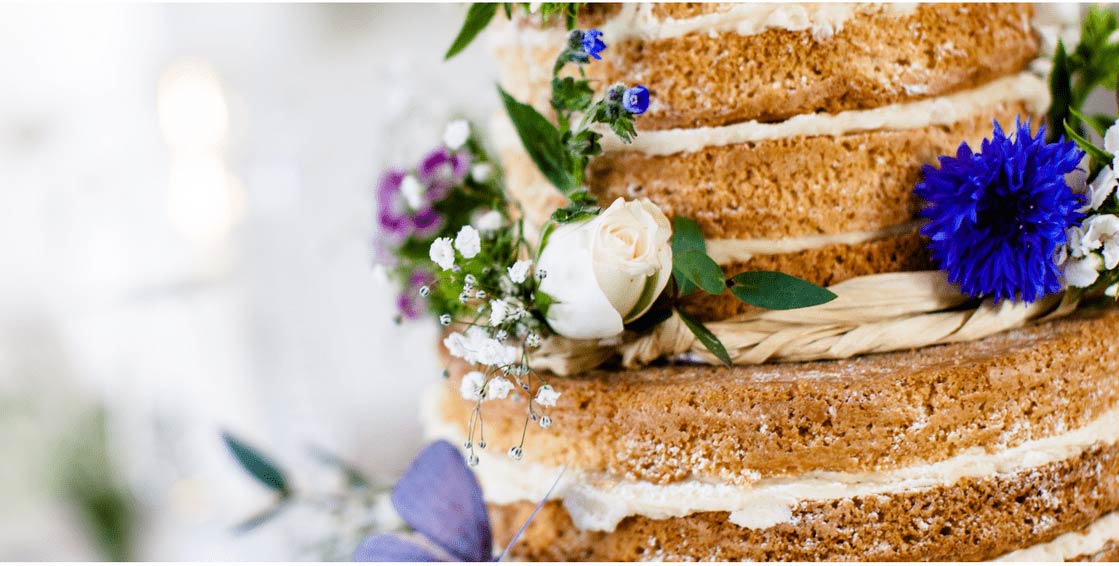 Local-moons
Just because there are travel restrictions in place doesn't mean you have to forego your honeymoon. Instead, consider heading somewhere local and exploring a corner of your state you haven't visited before. Without the added cost of airfares and time spent flying around the world, you can indulge in more luxurious accommodation and enjoy more quality time with your new spouse.
Virtual planning
The rise in technology has impacted weddings in many ways, not least in the planning process. It's now easier than ever to make decisions about your special day from a remote setting using online platforms.
You can communicate with vendors, your venue, and wedding coordinator through Facetime or Zoom and you can create a wedding website to share all the vital details with your guests. In fact, you can even send out invitations virtually if you want to save on stationary and postage costs. If you can't get to your destination wedding venue before your special day, you can simply take a virtual tour to make sure that it's "the one".
While virtual wedding planning has been on the rise for a while now, the events of 2020 have shifted it into another gear. Stay-at-home orders have seen more brides and grooms turning to the Internet to help plan their special day and get the message out to family and friends.
Tented and garden weddings
The pandemic has also encouraged more and more couples to consider an outdoor wedding so they can celebrate with their loved ones while adhering to social distancing restrictions. There's no reason why a garden or tented wedding can't be just as magical as an indoor one, with string lights, whimsical drapery, and mood chandeliers creating an undeniably romantic ambiance. It's also an opportunity to embrace Mother Nature, have couple portraits amidst gorgeous garden settings, and dance beneath the stars during a night you'll never forget.
Mismatched seating
While mismatched bridesmaids' dresses have been all the rage for a while, the trend is now turning to seating design and layouts. Traditionally, weddings have had standardized seating – rows of chairs at ceremonies and either square or rectangular banquet seating at receptions. But wedding coordinators and planners are now getting a little more creative, in part to adhere to social distancing regulations.
Clusters of two or three seats can be arranged at your ceremony venue to allow family units to sit together while your reception might include some tables of 5 and others of 8, depending on what works best in the space. Also, don't be afraid to go with mismatched chairs for a vintage aesthetic.
Bridal overskirts
One of the biggest bridal attire trends of 2021 is the overskirt, which basically gives you a two-in-one dress. A voluminous skirt can be added over your wedding dress as you walk down the aisle, giving you that dream train you've always wanted. It can then be easily removed so you can dance and socialize with ease at your reception, without having to worry about doing an entire outfit change in the middle of the day. An overskirt is a simple and cost-effective way of having a completely new look to "wow" your guests with.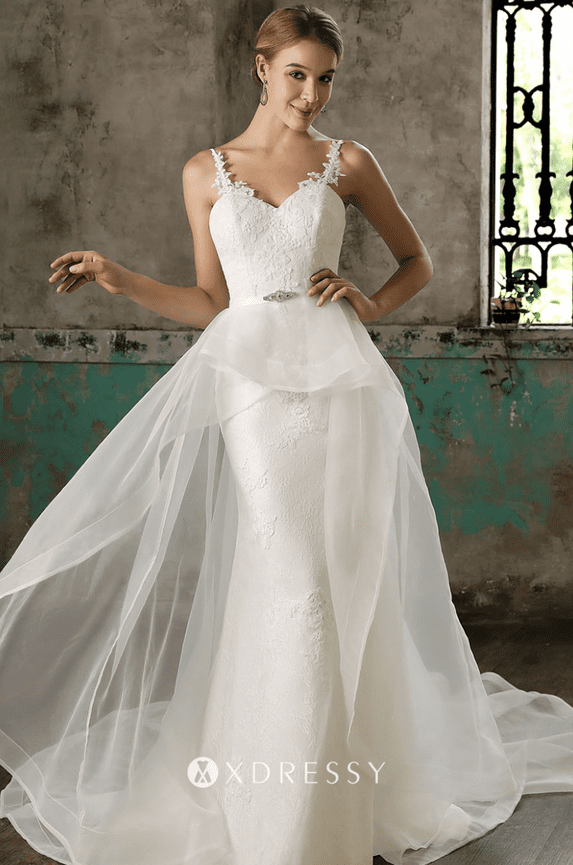 Photo compliments of Xdressy.com
https://www.xdressy.com
Welcome boxes
With more intimate weddings comes the opportunity to really spoil your guests, which can begin the moment they arrive. A welcome box can include the wedding day program and perhaps a small gift, as well as safety precautions such as hand sanitizer and face masks. If you're having bubble-blowing or confetti-throwing moments, this is also an ideal way to distribute supplies, with a cute instructional note included.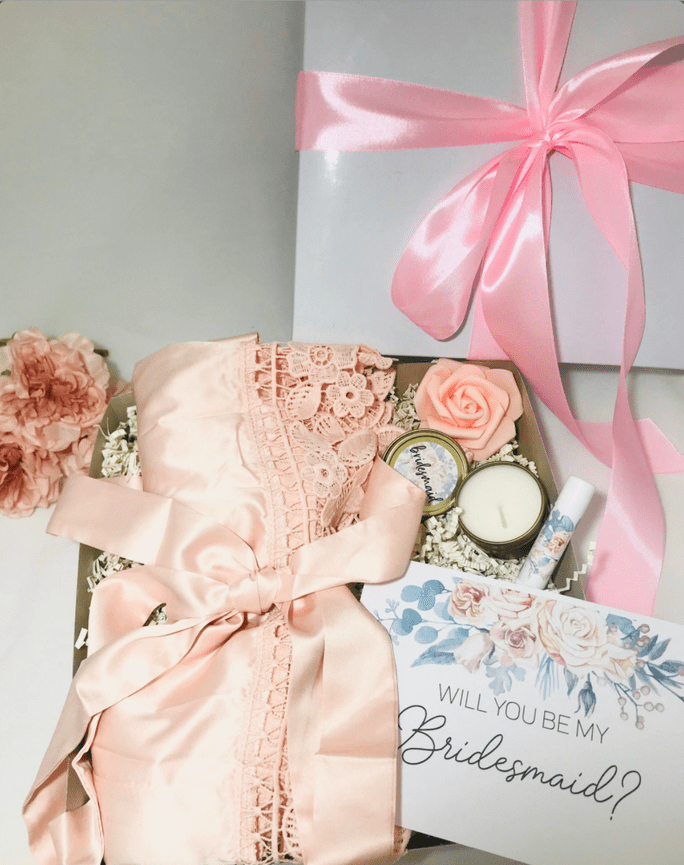 Custom Gift Boxes from Etsy
Custom designed wedding party gift boxes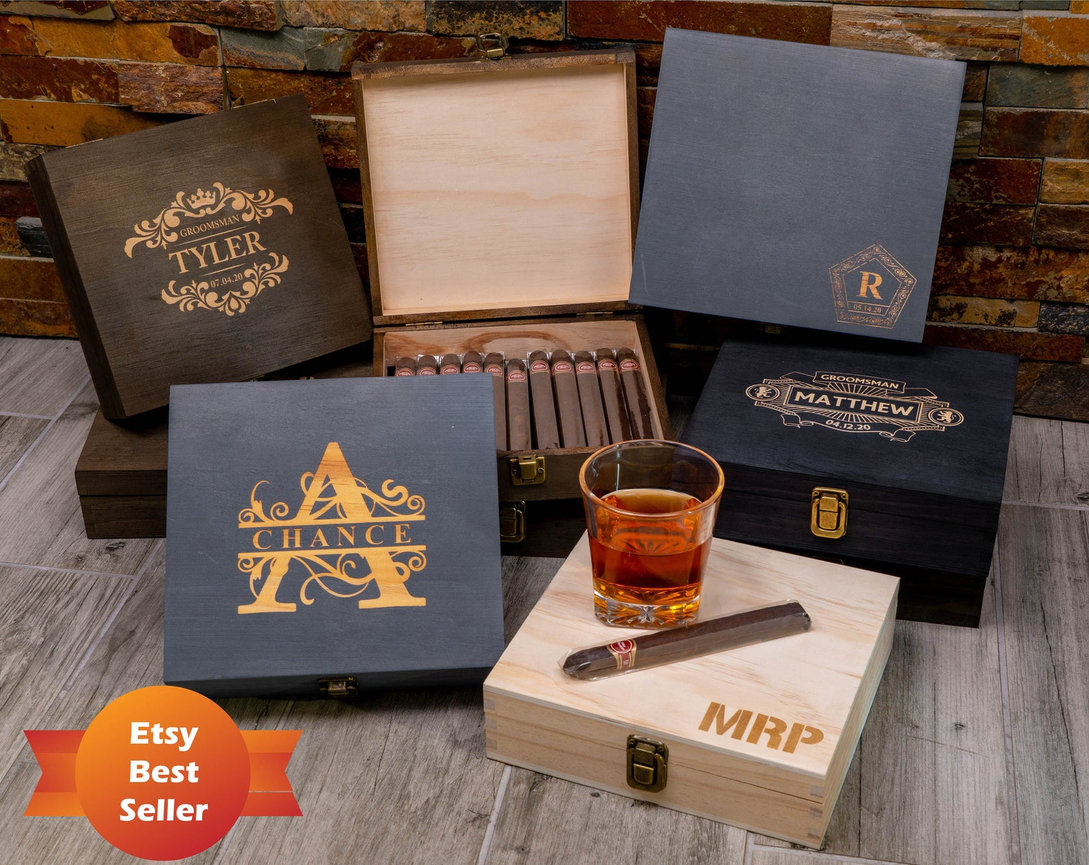 Custom Groomsmen Gift Boxes from Etsy
Creative and fun custom designed gift boxes for the groom and groomsmen can be ordered through Etsy.
Light suits
For grooms, the latest trend is all about light suits in pastel colors or tan browns. Not only are many men going for lighter colors but also lighter materials, such as linen, which allows your body to breathe on warm summer days. It's a great option if you don't want to forego the classic suit look but without having to worry about sweating it out beneath a heavy jacket. Lighter suits also make a bit of a statement and give grooms an opportunity to express their individual style.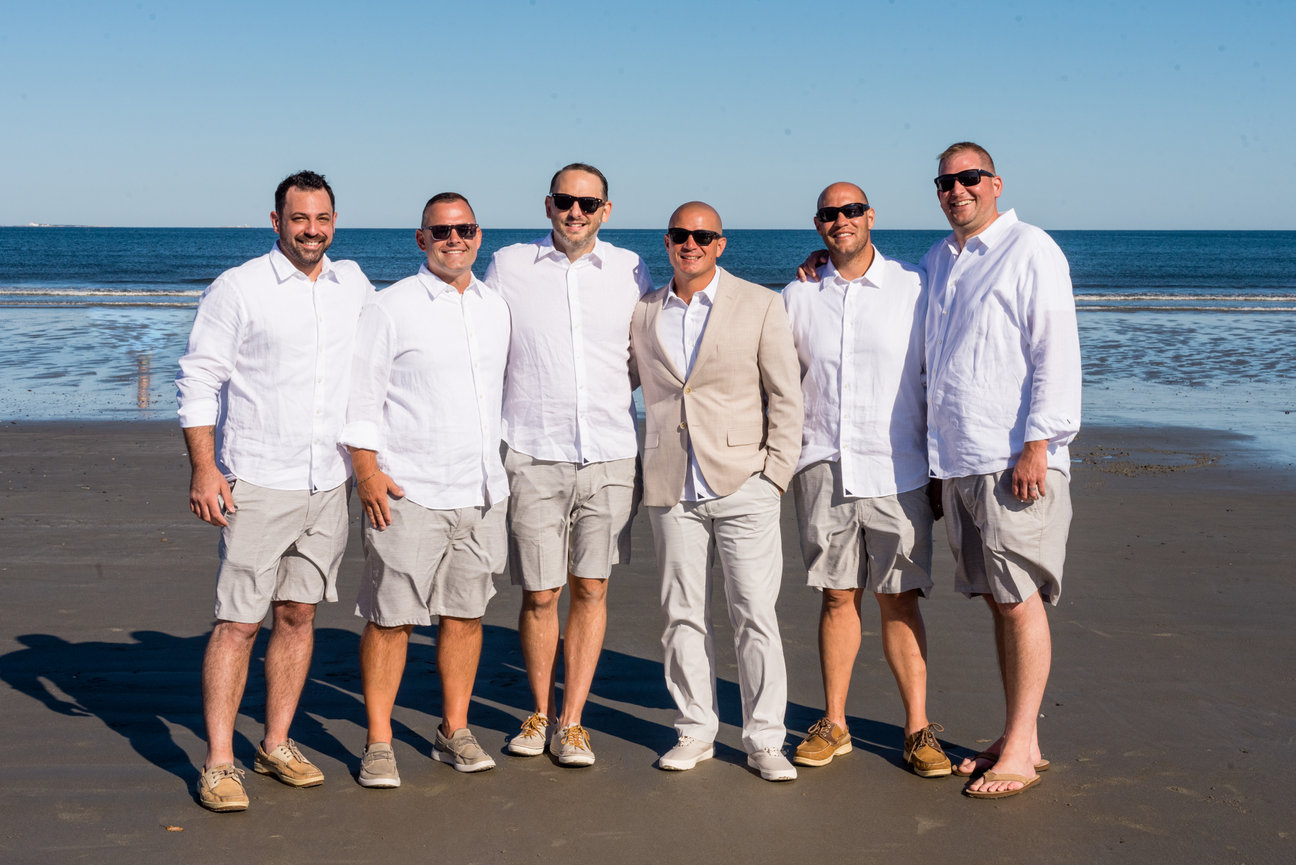 Weekday and DIY weddings
With couples having to shift their wedding date due to the pandemic (and securing a Saturday or Sunday at your preferred venue becoming next to impossible), there's been a rise in weekday wedding. But a Monday to Thursday celebration brings with it a lot of advantages, particularly in the budget department. Compared to a weekend wedding, a weekday one can save you tens of thousands of dollars! So if you think your ideal venue is outside of your budget, considering a weekday wedding may well make it possible. Adding in special DIY touches for your seacoast wedding is both fun and easy on the budget.
To Wrap It All Up . . .
As a NH Intimate Wedding Photographer, who photographs events all over New England, the silver lining of these times, are that weddings are more intimate than ever, the locations and venues are creative and inspiring, couples are indulging their guests with creative culinary choices, the destinations are both magical and drivable, and the overall vibe of 2020/21 and most likely 2022 weddings are that of joy, hope, optimism, family values and gratitude. I am seeing more and more of my couples investing in gorgeous, custom designed, storybook albums that will be passed down for generations – a lovely turn towards what matters most.